Mrs Rachael Caton
Role
Chair of the Governors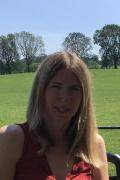 Appointed by the Governing Body
Date Appointed: October 2019
Term of Office: October 2019 - March 2027
Category: LA Governor
Attendance 2021/22:  3 of 3
Relationships between Governors & Members of Staff, including Spouses, Partners & Relatives: None.
About me: My experience as a Governor began at Kirkby Malham Primary where I was Vice Chair of Governors and involved with finance and Early Years and Foundation stage in particular. I was also involved in the successful Ofsted inspection there in 2019 when the school was judged by Ofsted to be GOOD in all areas, including leadership and Management, teaching and learning .
As part of the Federated Board I am now the Chair and am really enjoying working with a very professional and dedicated team of Governors and staff across the two schools. 
My experience of work until having children was as an operations manager for a utilities company.
I now work with my husband on our beef and sheep farm in Malhamdale and look after our four children.