Since January 2014 Settle Primary School has had the special honour of being Global Partnership Leader for the Craven Area. Since then the school has worked with schools across the area to develop a global awareness in their curriculum and establish connections with other schools around the world.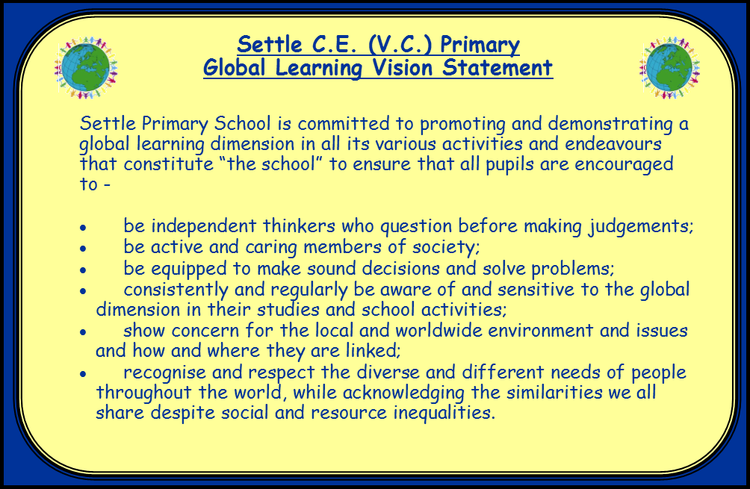 Transcription: Global Learning Vision Statement

Settle Primary School is committed to promoting and demonstrating a global learning dimension in all it's various endeavours that constitute 'the school' to ensure that all pupils are encouraged to;

Be independent thinkers who question before making judgements.
Be active and caring members of society.
Be equipped to make sound decisions and solve problems.
Consistently and regularly be aware and sensitive to the global dimension in their studies and school activities.
Show concern for the local and worldwide environment and issues and where they are linked.
Recognise and respect the diverse and different needs of people throughout the world, while acknowledging the similarities we all all share despite social and resource inequalities.
We have had very strong links with our partner school at Kwezana in South Africa since 2010. We are proud to work together on partnership curriculum work and to support their development through various fundraising events.
In 2017 the school raised over £1,000.00 through a sponsored walk to help support our work with Kwezana School. We have been raising funds through charitable activities since 2010 and funds raised have significantly enhanced the provision of education in Kwezana.
Thanks to the generosity of parents and the community Settle CE Primary School has helped Kwezana School to fund teachers, develop an ICT Suite, enhance their school building and school grounds and importantly share good practice.
The school was the originator of a local charity 'Friends of Kwezana School' that runs to this day.
MP Julian Smith visited the school in October 2017 to look at our global partnership work and was very impressed with the work that has been carried out of the years. Mr Wright asked that Mr Smith feed back to parliament the importance of investing in Global education so that schools across the country can maintain constructive, positive links with children from other countries.
At present Settle Primary School link with children in South Africa though blogs, shared curriculum project work and letters. 
Settle and Kwezana Link Timeline
Read about partnership events by reading backwards through time. Discover how our school partnership began in 2010 and how it has progressed over the years to 2019.
At the bottom of the page there are links to all the newsletters that have been written by The Friends of Kwezana. The Friends group was created to help the children of Kwezana by providing support and funding for non-curriculum projects. Members of Settle Primary school, the local community and church meet regularly to help with quality of life projects such as the improvement of school buildings and the school grounds.
2019-2020
We are currently developing exciting plans to share our partnership work with Kwezana School in South Africa with our collaborative partner school at Kirkby Malham Primary School. This will allow us to maintain fresh links and to offer pupils at Malham an insight into the life and experiences of South African children. We hope to develop these links during the summer of 2019. Settle Primary School community have benefited massively from our global school links and we think the Kirkby Malham Primary School community will too. 
2017-2018
The partnership still goes strong. We continue to blog, share ideas and work on shared projects,  though a lack of funding means visits are no longer possible. However we continue to raise money to help support the school and through the Friends of Kwezana School the good work of the partnership is shared with parents and members of the community. 
2016
The school maintains regular contact and links with our partner school in Kwezana, South Africa. Children share curriculum work and keep regular contact through email and approved media such as our school blogging site. Settle Primary host Global Learning events to schools in the local area and deeply value or connection to Kewzana School (please see a record of our work below).
2015
A final exchange visit overseen by Settle Primary School and funded through the British Council was arranged and Miss Entwistle and Mr Freytag again teamed up to fly out to Kwezana with the intention of securing the long term ability for our two partnership schools to communicate effectively.
This involved welcoming a new member of staff at Kwezana Primary.
Nontombi has been trained through TVS. TVS is a UK– based charity operating in the Tyume Valley where Kwezana is situated. TVS help to improve the lives of children living in the Tyume Valley by working with local schools to improve teaching and learning.
Part of the reason we feel that our link has grown so strong is that we are able to communicate via our blog so quickly and frequently and having Nontombi at Kwezana helps us achieve this. Information is exchanged via blogging and the questions asked by children from one school are answered by the other school much quicker. This keeps the link vibrant and topical to the current interests and experiences of all our children.
The second part of the visit to Kwezana was to oversee the purchase and installation of guttering and a new water tank. This project was made possible through the work of the Friends of Kwezana Primary and the goodwill of parents and staff of Settle Primary School and members of the Settle community.
2014
This year's visit was arranged in January, which is during South Africa's summer.
This was an ideal time for the pupils discover how different parts of the world may have the same seasons but they could be during different months. This year's visitor, Mrs Gape (representing both Friends of Kwezana School and Settle Primary), was able to see what changes the summer months bring to the countryside around Kwezana. She also experienced the different challenges that affect school life in the hotter summer months.
Two main difficulties arose during Mrs Gape's summer visit. The first was that January is the rainy season in South Africa and the usually hard packed dirt roads turned to mud and became impassable to most forms of transport. Secondly the heat dried up the reservoir above Kwezana which the school relies on for its water supply. This meant that there was no water available for cooking, washing or drinking.
Luckily water was able to be used from the water butt attached to the nearby church so that the children had something to drink.
Unfortunately Kwezana Primary school's guttering is in very bad shape and they have no water butt to catch rainfall so this problem was an ongoing issue. Mrs Gape shared her experiences upon her return to Settle and plans were made for the Friends of Kwezana to fundraise for new guttering and to purchase and install a 5000L water tank. Settle Primary were lucky to welcome Ms Mveni who teachers Grade 1 and 2 at Kwezana Primary. Ms Mveni was full of enthusiasm during her visit and worked with children in most of the classes. She also spent time at breaks teaching our pupils new skipping techniques.
2013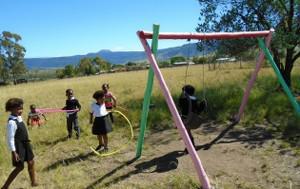 Due to the success of Kwezana's and Settle's partnership we were able to apply for a Connecting Classrooms grant from the British Council.
This enabled the the completion of new joint projects and exchange visits.
Miss Entwistle and Freytag returned to Kwezana with Miss Ratcliffe who all represented Settle Primary School. Miss Ngosi visited Settle Primary in return.
Miss Nojozi works with the youngest children at Kwezana Primary. She worked closely with Miss Greenwood in Reception to share their experiences and good teaching practice.
Because of the success of our partnership it was decided that a group should be formed from interested members of Settle Primary, the Church of the Holy Ascension and the local community to fundraise for and oversee non-curriculum based projects. The group was to be called 'Friends of Kwezana School' and shifted the work and much of the funding and planning/organisation of the partnership away from the school to a specific charitable group.
2012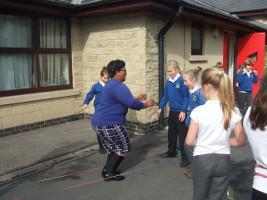 This year Mrs Gape was joined on her visit to Kwezana by ICT teacher Miss Entwistle and ICT technician, Mr Freytag. The visit was partially funded through money from the British Council to develop teaching and learning and funds developed through fundraising at Settle Primary School being directed to this partnership.
During this visit Mr Freytag was able to set up a basic computer suite with equipment Kwezana primary had acquired and laptops donated from members of Settle's community. This visit also saw the start of the garden project which is sponsored by Chipmonks Day Nursery.
Kwezana had an expansive grounds which was not fenced and free-roaming farm animals (mostly goats) ate anything they could find. Fencing was funded to enclose an area to be used for growing fruit and vegetables as well as providing an area for outside education opportunities in subjects, such as biology.
As well as ongoing shared educational projects, a blog was set up so that the children from both schools could communicate more freely. Settle Primary were also able to welcome the Principal of Kwezana Primary, Ms Mbatani, to their school when she visited the UK as part of the British Council's initiative. Ms Mbatani was able to meet person to person with our Headteacher Mr Wright to develop partnership ideas that could benefit both schools.
2011
Mrs Gape made a second visit to Kwezana Primary and was able to set up an internet connection so that quicker communication between the two school was possible. Previously letters had been exchanged but this was a very slow and disjointed form of communication. During this period Kwezana were pleased to welcome a computer trainer to their staff. This appointment was funded through funds Mr Wright, headteacher , was able to generate via fundraising initiatives on behalf of Settle CE Primary.
2010
One of Settle CE Primary's Governors, traveled to South Africa and visited Kwezana Primary. Mrs Gape has links with the UK based charity Tyme Valley Schools (TVS) which operates in the area. As part of their vision, TVS work to improve teaching and learning in the Eastern Cape of South Africa. Mrs Gape had suggested linking Primary Schools in the Eastern Cape with schools in the UK. The link between Kwezana Primary and Settle CE Primary grew from this idea. Mr Wright , headteacher,  established a link with the school and developed a plan to create close links between the school and seek funding to promote a long term partnership between the schools. It has lasted until the present day.